Boating holidays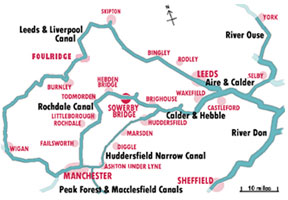 A boating holiday in Yorkshire enables you to discover our county, and meet our people, in a unique and involving way. You instantly slow down to a human pace, giving you time to absorb so much more than in the rush of normal life.
Park your car with us (free) and forget it as you travel to free moorings in interesting places, instead of expensive parking places - if you could find them.
After a drink or two, instead of that expensive taxi home, just wander back along the towpath - but take a torch, because it can be truly dark along the canal, unless it's moonlit: things we too seldom experience in our light-polluted urban lives.
Most of our locks take two narrow boats, so you get the chance to share. Make new friends, and meet up later in the pub, to swap tales of boating. You'll meet all sorts, from gnarled old-timers who've been across most of the 3000-mile system, to people who've just bought their first boat. Everyone is friendly, especially the locals, who are always pleased to see a boat.
One attraction of a canal holiday is never knowing what's round the next corner. Another is the opportunity to stop and do nothing. You can explore the shops, prospect for pubs, chat to the locals, take your dog for long country walks, climb the hills, discover historic buildings and museums, go to the cinema, theatre or opera - there's so much to do, perhaps you'd rather sit and read a book.
This site is divided into holidays for everyone, and more demanding holidays for experienced boaters. If this is your first time, pick one of the holidays for everyone and ignore the rest. Or look on our site dedicated to first time boaters on the Yorkshire canals.
How to choose a route
Use the links from this page to see brief details of each type of route.
or
- Use the
availability search
. You'll get a selection of boats to match your criteria. On each boat, click 'Routes for this boat' and you will see where you can go.
For everyone
All these routes are 'out & back'; you bring the boat back to the place you started. We have two bases, our main one at Sowerby Bridge, and a small one at Barnoldswick. Both give you have access to amazing scenery and interesting places.
Plus, For Experienced Boaters
One Way Trips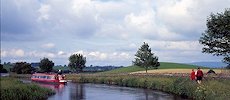 Cross the Pennines by any of the three trans-Pennine canals.

More Info

Canal Rings
Cross the Pennines twice - from 11 days to 3 weeks.

Adventure Holidays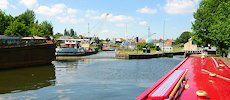 Sheffield, Goole, York, Liverpool - if you know your canals, you'll know that these are amazing destinations. If your crew are really serious boaters, we can get you there.