Longer Trips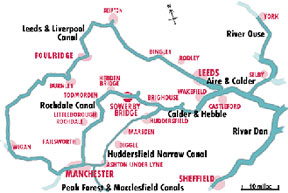 In 10/11 days or a fortnight, you can do one of these longer routes, or simply take more time to enjoy one of our One-Week Routes.
And for experienced boaters, we have the most fantastic Rings, or our Adventure Holidays.
10, 11 or 14 night holidays -
Bingley

110 miles 118 locks 55 hours
Sail down the leafy Calder & Hebble Navigation past Brighouse, and through wide river sections and narrow cuttings to Wakefield, where there are good moorings not too far from the bright lights. Then on to Stanley Ferry to see the famous aqueducts and two very convenient and contrasting pubs.
You are now on the Aire & Calder, which is still a thriving commercial waterway, though there are now many more pleasure boats than barges. Electric locks and a wide channel help you speed (relatively) round to Leeds, where you sail past the regenerated waterfront.
Then join the Leeds & Liverpool Canal which quickly escapes along its own way through fields and woods, with spectacular views of old West Riding industry - particularly Sir Titus Salt's Italianate mills and model town at Saltaire, with its Hockney museum. There are several staircase locks along the way, which culminate in the Five Rise Locks at Bingley, one of the Seven Wonders of the Waterways.

Rochdale and Brighouse

54 miles 120 locks 55 hours
Leaving our historic canal basin, your journey begins with the excitement of a new tunnel and the deepest lock in the country. The canal gradually climbs through woods, fields and small stone towns to Hebden Bridge. This old mill town nestles in a fork in the hills, houses piled tier upon tier. Hebden has excellent shops and is full of surprises - everything from horsey clothing to hand-made pottery. Untie, and go on up the valley, its sides closing in with crags and trees and views of the moors high above. A stream runs alongside, and the locks are set among woods or stone cottages. The Pennine Way crosses at Callis.
So to Todmorden, completely untouristy yet with much to enjoy - fine Victorian buildings, especially the Town Hall, a lively market and many places to eat and drink, all dominated by a curving railway viaduct.
From here the going gets serious – more Alpine than Pennine. Pass the Great Wall of Todmorden, go under a splendidly overdone Gothic railway bridge, then stop at the Cross keys (much recommended). Keep going, with high hills on either side, to the summit, the second highest (just) in England at 600'. Pause at the Summit Inn, your first in Lancashire, before making the steep drop into Littleborough, 12 locks in 2 miles. Visit the secondhand bookshop, then carry on past Clegg Hall (a Grade 1 listed ruin) and through the edge of Rochdale - surprisingly sylvan - and to its centre. Carry on to Lock No. 50, and turn just below.
Return to Sowerby Bridge and on down the Calder Valley through the woods to Brighouse. Good shopping, including a Sainsbury's with its own moorings, plentiful pubs and time to relax. Finally, make your way back to base.


Navigation notes:
This journey needs an active, committed crew - it has a lot of locks!

Skipton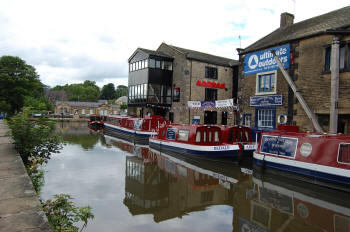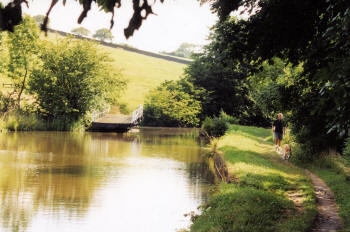 136 miles 128 locks 70 hours
Carry on along the hillside, with wide views of Airedale to one side, and the edge of the Yorkshire Dales National Park on the other. Pretty villages and lots of swing bridges - much easier these days - take you through to Skipton, Gateway to the Dales. Don't miss the castle! This return journey needs long days and good timing.